Description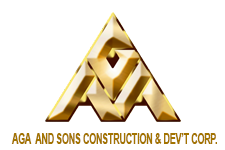 AGA & Sons Const. & Dev't. Corp. founder is Eng'r. Angel G. Arches Sr. He is a Civil Engineering graduate from Mapua Institute of Technology in 1956 and ranked no. 22 in board examination. His first employment was with the government as a field inspector. His reputation for being very strict and disciplined paved the way for his next employment with PYRAMID Construction and Development Corporation who at that time heard of his stature. He served as Project Engineer for numerous projects and shortly became a director of that company.
He then started his own company and called it ANGEL G. ARCHES CONSTRUCTION. He placed his foundations on an uncompromising strict quality and client satisfaction on all of his contracts. His name became known to the likes of Arch. Manuel Go and George Go, Arch. Gilbert Yu and Willy Yu, Arch. Garcia, Arch. Eduardo Aguila, Arch. Jose Siao Ling and others of the same prominence.
In 1989, AGA and SONS CONSTRUCTION & DEVELOPMENT CORPORATION was incorporated, this time joining him his three sons. It still maintains the same high quality of work the founder was famous for plus the added services a corporation can provide.